NCG Launches GM Coaching Award Honoring Co-op Mentor Bill Gessner
Saint Paul, MN – National Co+op Grocers this week is launching an annual award program to honor the life and memory of one of food co-ops' most generous mentors.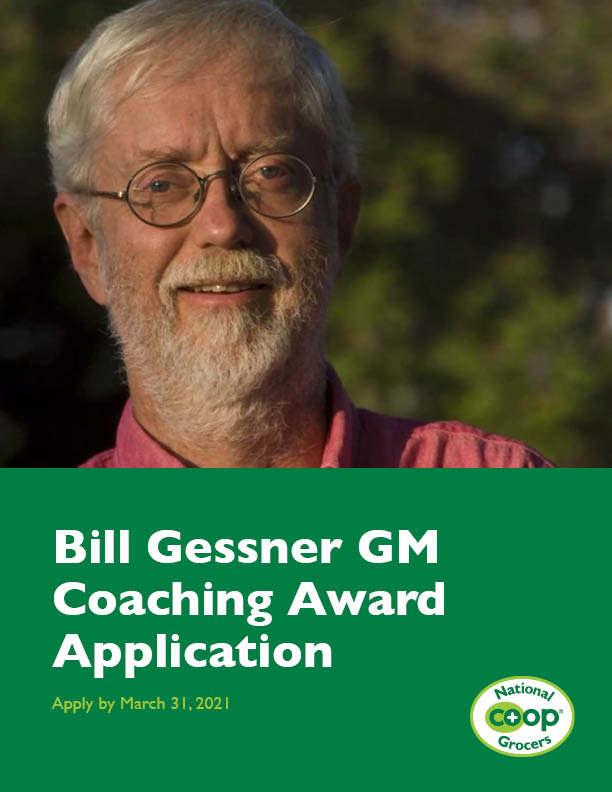 ​Applications open today for the first-ever "Bill Gessner GM Coaching Award," which will celebrate the life and career of Bill Gessner, who worked with more than 300 co-ops over 25 years as both a consultant and mentor.
The award is open to all food co-op general managers nationwide — including and beyond NCG-member co-ops. Each year's recipient will use the $3,000 award to access leadership coaching services to achieve identified goals and outcomes and enhance that general manager's professional abilities.
"Bill — who passed away January 2019 — was the consummate co-op coach," said C.E. Pugh, NCG CEO. "In his work and life, he created a trustful environment, provided encouragement and support to co-op leaders, offered guidance and inspiration to all co-op team members and never lost his sense of wonderment and of human capability."
"This award is to honor and remember Bill's commitment to — and support of — professional development, and we look forward to many years of his legacy continuing to have a positive impact on our co-op leaders and the entire co-op sector," Pugh added.
Food co-op general managers can learn more about how to apply for this year's grant by March 31, 2021, via NCG's website.
About NCG
National Co+op Grocers (NCG), founded in 1999, is a business services cooperative for retail food co-ops located throughout the United States. NCG helps unify food co-ops in order to optimize operational and marketing resources, strengthen purchasing power and, ultimately, offer more value to food co-op owners and shoppers everywhere. Our 147 member and associate co-ops operate more than 200 stores in 38 states with combined annual sales over $2.3 billion. NCG is a winner of the dotCoop Global Awards for Cooperative Excellence and a Certified B Corporation. See a map of NCG member and associate co-ops. To learn more about co-ops, visit www.welcometothetable.coop.
###
Media inquiries may be directed to Eric Davis (eric@harvest-pr.com; 612-424-7545).